Fan de Cardcaptor Sakura en Japón logró nuevo récord guinness
https://www.otakupress.pe/2019/06/record-guinness-card-captor-sakura-japon.html
Foto: @natsumi0913
¡Buena noticia, card captors! Una fan japonesa consiguió el
Record Guinness por la Colección más grande de Cardcaptor Sakura.
La joven cosplayer de Tokio
Natsumi Shirahoshi
logró superar el récord actual (1,086 items oficiales) y alcanzó
1,709 items
de la popular serie de CLAMP.
— しらほしなつみ@4日目西B-20b (@natsumi0913) 2 de julio de 2019
De esta forma, superó mi record conseguido en el 2016:
Desde
Perú
, le mando muchos saludos y felicitaciones. Este nuevo logro solo muestra que Cardcaptor Sakura es una serie con cada vez más seguidores en Japón y el mundo.
En octubre del año pasado y luego en junio del 2019,
Kodansha compartió un mensaje
que escribí a nombre de la comunidad de fans de
Cardcaptor Sakura
en el mundo, especialmente en América Latina.
English version
Cardcaptor Sakura fan in Japan got Guinness World Record!
Cosplayer and model Natsumi Shirahoshi is the new record holder for the Largest collection of Cardcaptor Sakura memorabilia, accredited by Guinness World Records.
Her collection began as a child and now she possesses more than 1,709 official items from Japan.
Natsumi-chan lives in Tokyo, Japan, and she is very popular because of her cosplays as Sakura-chan, our magic hero at manga and anime series.
"I applied for GWR because I wanted to keep these items as a legacy, or evidence which I have lived with CCS", said to Otaku Press.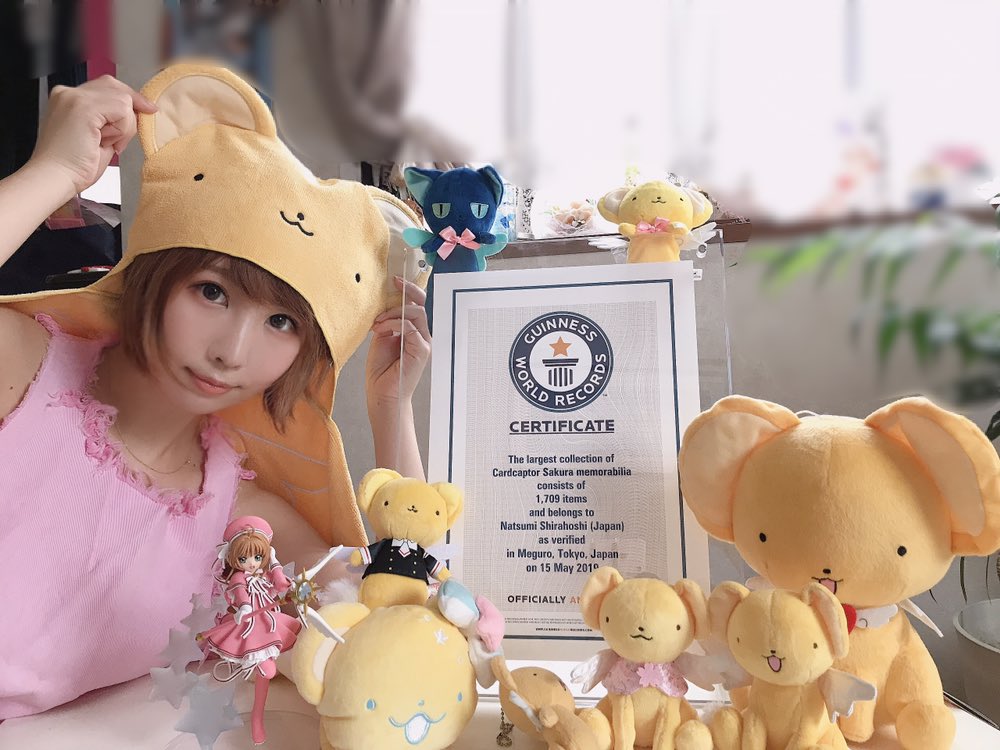 Foto: @natsumi0913 at Twitter
Thanks Natsumi chan for the interview:

- Why Cardcaptor Sakura is so special to you?

Sakura is different from other magical girls as she always changes her costumes when she fights, and she looks very cute in all of them! The kind, warm world of CCS has taught me a lot. She has been a very special magical girl to me since 23 years ago.

- What was the hardest thing you had to deal?

All of them! There obviously was a language barrier... and everything was hard to achieve.

- Which is the most special item you have?

Acrylic panel which I got from winning the lottery. Only six people in the world own this!

- What message do you have to other CCS collectors?

Love cannot measured by numbers, and I think having this record is only one of the ways to show my love to this work. CCS should be loved by everyone, even more. Let's share our love and enjoy their world together!