Feria del Libro: tiendas virtuales con descuentos para mangas y cómics
https://www.otakupress.pe/2020/08/feria-del-libro-manga-comics-fil-lima-2020.html
La Feria Internacional del Libro de Lima (FIL Lima 2020) dará inicio este 21 de agosto en su primera edición virtual con más de 100 stands en línea que ofrecen libros y publicaciones de la mejor calidad.
Entre ellos tenemos cómics y mangas con descuentos imperdibles. Otaku Press hizo un recorrido virtual, como todos los años, para recomendarles las mejores librerías y stands.
El distribuidor oficial de Panini Manga y Panini Comics México en el Perú tiene un
amplio catálogo de cómics y mangas
, así como títulos de otras editoriales como ECC, Planeta, Salvat, entre otras.
Entre los mangas disponibles están Ajin, Akira, Ataque de Titanes: Before the fall, Fairy Tail, Maid Sama, Ouran High School Host Club, Sailor Moon, Vampire Knight, Ghost in the shell, Fire Force, My Little Monster, Your Lie in April, entre otros.
El precio de delivery a Lima Metropolitana es de 8.50 y se puede pagar con tarjetas, depósitos bancarios, transferencias o desde aplicaciones como Yape.
Tiene más cómics que mangas, pero entre los títulos más conocidos están Mirai Nikki, Capitán Tsubasa, Blue Exorcist, Aoha Ride, One Punch Man, Citrus, Los 7 pecados capitales, etc. Su catálogo cuenta con más de 900 libros. Hay 20% de descuento en algunos títulos.
Se puede solicitar delivery o recoger en tienda.
Cuenta con más de 80 títulos de cómics, principalmente títulos nacionales como Luchín Gonzales, El Barrio de Cholín, entre otros. Además, hay cómics de DC y de editoriales como Planeta.
El delivery cuesta 10 soles, pero por compras mayores a 39 soles hay envío gratuito.
Tiene box set de Naruto, One Piece, Death Note, Bleach, así como cómics de DC. También hay mangas en inglés y en español de editoriales como Norma.
Solo tiene cómics como Star Wars, Dark Tower, Watchmen, Jessica Jones, Spiderman, entre otros. Hay 20% de descuento para estos títulos.
Tiene dos secciones de cómics, pero en la que dice "manga" no tiene títulos de ese tipo. Encontrarán Asterix, Coco, Gravity Falls, etc. Hay descuentos de 20%.
¿Cómo buscar un cómic o manga?
Si ya tienen un título en mente, una buena recomendación es visitar la
web oficial de la Feria del Libro
y elegir la opción "Libros" para hacer una búsqueda en todos los stands virtuales.
Por ejemplo, si ponen "sakura" verán todos los libros, incluyendo mangas.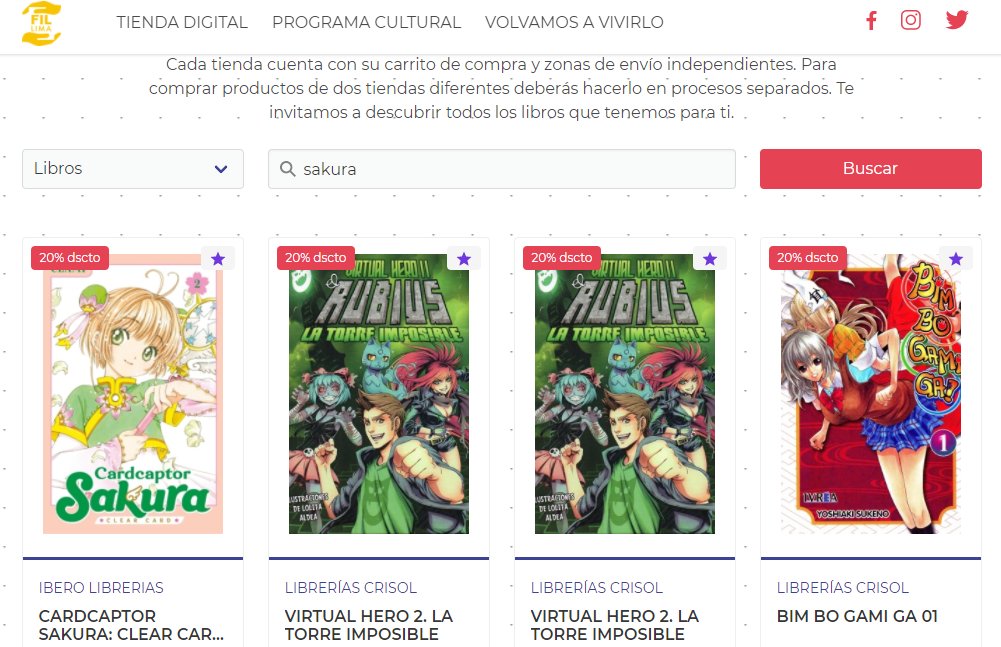 ¿Cómo comprar en la FIL Lima 2020?
Como se usa la plataforma Joinnus Market, es necesario tener una cuenta en Joinnus. Luego solo debes visitar el stand virtual de tu librería favorita y luego seleccionar tus libros.
A continuación haz clic en tu carrito e Ir a pagar. Podrás elegir tu dirección o la modalidad de recojo del pedido y pagar con tarjetas de crédito, QR o efectivo.
*Este post estará en actualización