EN DIRECTO: Todo lo que te perdiste del Anime Expo 2017
https://www.otakupress.pe/2017/06/en-directo-live-noticias-anime-expo.html
Los Ángeles, EE.UU.- Otaku Press
dará cobertura a uno de los eventos más importantes en el mundo que reúne lo mejor del anime, manga, videojuegos y mucho más de la cultura japonesa.
El
Anime Expo 2017
se realizará entre el 1 y 4 de julio de este año en el Centro de Convenciones de Los Ángeles, en EE.UU. Además, habrá un pre-show el 30 de junio con algunas novedades.
Se presentarán reconocidos artistas, mangakas y habrán noticias sobre diversos animes como Cardcaptor Sakura, Code Geass, Fate Grand Order, Shokugeki no Soma, The Ancient Magus, Tokyo Ghoul, Violet Evergarden, Welcome to the Ballroom, etc.
Realizaremos transmisiones en vivo y compartiremos en tiempo real información sobre las actividades y stands. ¿Quieres participar de los sorteos?
Ingresa al Facebook.
04/07/2017 (Día 4)
El Anime Expo 2017 cerró con un concierto con Alice Underground, que tocó temas de Code Geass. En la ceremonia de apertura ya nos había deleitado de su talento.
Cómo usar una máquina de gashapon
Bandai llevó varias máquinas de gashapon de diversos animes como Dragon Ball Super. Este pequeño video muestra cómo se compra un muñequito
03/07/2017 (Día 3)
7:30pm
El panel del live action de Tokyo Ghoul fue protagonizado por Masataka Kubota (Ken Kaneki) y el director del film Kentaro Hagiwara. El actor paseó por Los Ángeles y hasta se tomo fotos con los fans en el Anime Expo 2017. Por la noche, vistió la máscara de ghoul de su personaje ante los aplausos de los fans. Aquí pueden leer
mi reseña de la premiere live action de Tokyo Ghoul.
— Sofía Pichihua (@zophiap) 4 de julio de 2017
— Sofía Pichihua (@zophiap) 4 de julio de 2017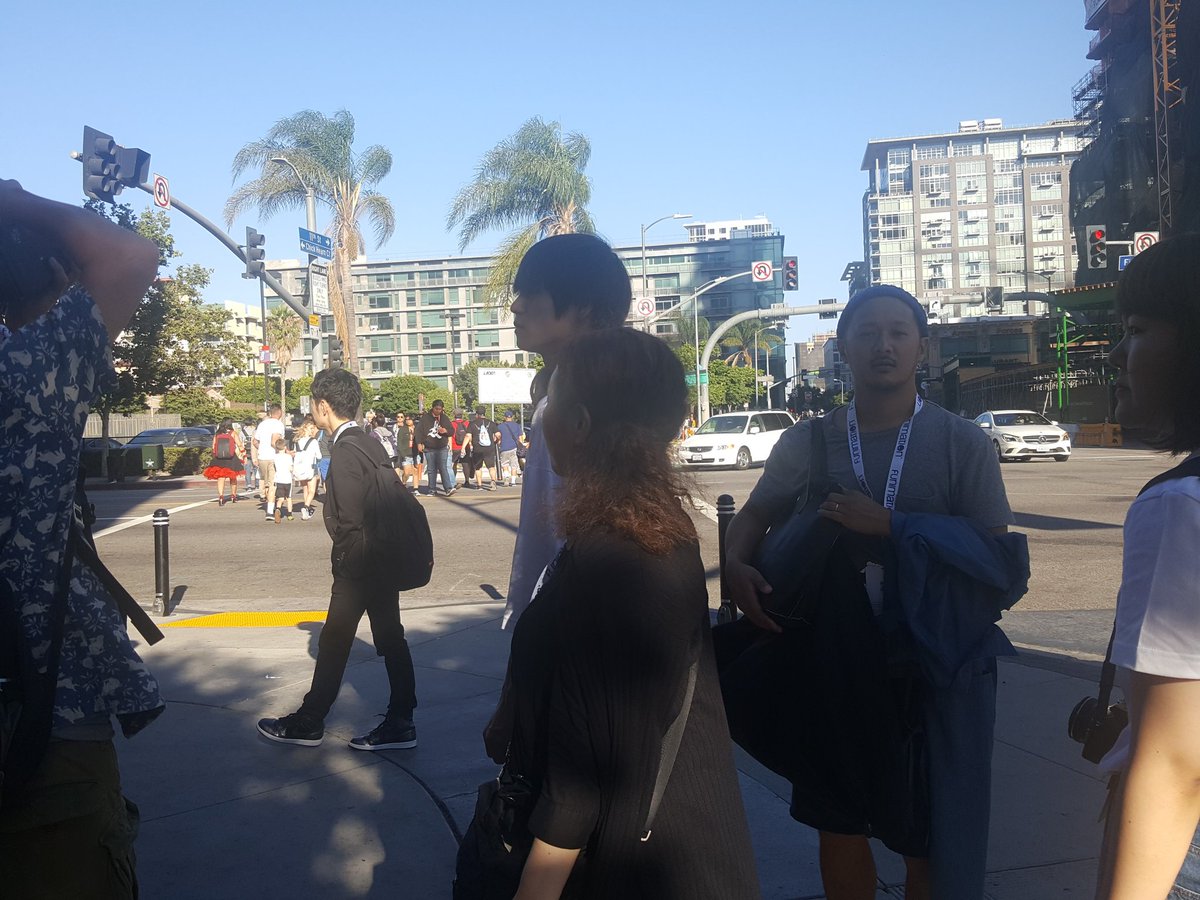 12m
El panel del live action de Fullmetal Alchemist participan grandes invitados: el actor Ken Ayugai, el director Fumihiko Sori y Ryosuke Yamada (Edward). Además, si tiene éxito habrá una secuela, sostuvo Sori san.
"Todos fueron muy amables y cálidos conmigo al llegar a Los Ángeles", dijo Yamada san.
Ryosuke Yamada brindó una conferencia de prensa con algunos medios de comunicación, entre ellos Otaku Press.
Nuevos animes anunciados por Warner Bros Japan
RWBY, Haikara-san ga Toru y Food Wars! (Shokugeki no Soma) son algunos títulos mencionados en la conferencia de Warners Bros Japan.
Además, durante el panel se difundió un video con el cast de Shokugeki no Soma. Los protagonistas, Soma y Megumi, compartieron un mensaje con sus fans.




Junko Iwao, voz de Tomoyo Daidouji en Cardcaptor Sakura, accedió a una entrevista luego de su visita al Anime Expo.


VIZ Media realiza panel sobre Food Wars! con el co-creador del manga Yuto Tsukuda. Tsukuda san es muy divertido y contó que la idea original fue del ilustrador Shun Saeki, quien quería combinar la comida con lo sexy.
We Are X: Documental de X Japan
12m
A las 8:30am (hota local) Yoshiki informó en Twitter que no podrá venir por un ensayo de X Japan que tarda más por su recuperación médica "Me disculpo", dijo. Anime Expo dijo que entendía su situación. ¡Fuerza, Yoshiki!
El presidente de WIT Studio (Shingeki no Kyojin) y el director de animación Norihiro Naganuma se presentan en el panel sobre el anime The Ancient Magus Bride. A las 7pm habrá un sneak peak de la animación.
Wada san mandó un saludo especial a fans de América Latina. Y dijo que próximamente espera ir.
01/07/2017 (Día 1)
El OVA refleja el final original del manga y era una petición que muchos fans de CCS tenían. Realmente deseaban (me sumo) ver a Sakura y Syaoran juntos de nuevo. Y este es el comienzo de la nueva historia:
Cardcaptor Sakura Clear Arc
que de estrena en el 2018 para celebrar los 20 años del manga.
Hay leves cambios con el manga. Pude detectar algunos escenarios diferentes como la llegada de Sakura al paradero de buses.
La animación es excelente. Tiene tramas (como los mangas) en algunas escenas. Realmente una obra de arte. El OVA se venderá en setiembre en Japón y no puedo esperar a comprarlo. Las 3 mil almas que estuvimos en el Anime Expo fuimos los primeros en ver el OVA con subtítulos al inglés.
También lee:
Palabras de Morio Asaka, director de animación de CCS, para fans del Anime Expo 2017
Este fue el regalito especial para los fans que asistieron a la premiere
— Sofía Pichihua (@zophiap) 1 de julio de 2017
Fotos de la premiere de Card Captor Sakura
Concierto de Mari Iijima (Macross)
2:30pm
Mari Iijima, recordada por Macross, cantó varios temas musicales propios ante una amplia audiencia en el salón principal del Anime Expo 2017. Tenemos las fotos del evento:
Inauguración del Anime Expo 2017
1pm
Hironobu Sakaguchi,
creador de
Final Fantasy,
compartió un mensaje con la audiencia durante la ceremonia de inauguración del Anime Expo 2017. Hubo dibujo en vivo y la seiyu y cantante Mari Iijima también saludó al público invitando a todos a su concierto.
Alice Underground
es una banda muy reconocida y estuvo en la ceremonia de inauguración del Anime Expo 2017 brindando un adelanto de su concierto en el evento en Los Ángeles. Tocaron dos piezas de
Code Geass y Cowboy Bebop.
— Sofía Pichihua (@zophiap) 1 de julio de 2017
Visitamos el stand de Kodansha en el Anime Expo 2017. Los fanáticos de Shingeki no Kyojin encontraron ilustraciones del manga y storyboards del anime. Los seguidores de CLAMP y Welcome to the ballroom vieron mensajes de los mangakas en una exposición. Además, CardCaptor Sakura tenía un módulo individual con ilustraciones del nuevo manga Clear Card.
Además, los fans recibieron un pin de obsequio y una ilustración especial por su compra. También compartí en mi Twitter los productos oficiales del Anime Expo. Hay un pin para Cardcaptor Sakura y otro para Shingeki no Kyojin
— Sofía Pichihua (@zophiap) 1 de julio de 2017
— Sofía Pichihua (@zophiap) 1 de julio de 2017


30/06/2017 (Día -1)
Se estrena en la próxima primavera el 2018. El novelista y creador de Full Metal Panic! Shouji Gatou y la ilustradora Shiki Douji participaron de un panel con los fans por los 15 años del anime.
Se estrena el 7 de julio en Japón. Llegará a Amazon Prime Video para todo el mundo.
29/06/2017
Tenemos un sorteo vigente por un evento en el Perú llamado Friki Fest.
26/06/2017
El 30 de junio habrá un pre-show que tiene varios eventos interesantes: el estreno de la premiere del doblaje en inglés de
Food Wars
, que tendrá una nueva temporada de anime. Además, se proyectarán películas en el Funimation Film Fest. El panel de
Full Metal Panic
busca celebrar su aniversario 15 con el novelista
Shoji Gatoh
y el ilustrador
Shiki Doji.
25/06/2017
El juego móvil
Fate/Grand Order
, muy popular en Asia, ya llegó a las tiendas virtuales de Estados Unidos.
Esta app te permite convocar a espíritus y héroes a través de cartas. La aplicación Fate GO fue lanzada en Japón en el 2015.
El domingo 2 de julio en el Anime Expo tenemos una entrevista programada con los creadores del juego para consultar información sobre su lanzamiento en América Latina.