El homenaje a Hiromi Tsuru, voz de Bulma en Dragon Ball Super
https://www.otakupress.pe/2017/11/dragon-ball-super-hiromi-tsuru-bulma.html
Medios japoneses confirmaron esta semana que la artista Hiromi Tsuru, conocida por ser la voz de Bulma en Dragon Ball Super, falleció en circunstancias en investigación.
La actriz fue encontrada inconsciente en su auto, y murió en el hospital, en Chuuoko, Tokio, informó
Yahoo! Japan.
La última aparición de Bulma fue en el episodio 96. "¡Mucha suerte a todos! Contamos con ustedes" dijo antes que los guerreros del universo 7 partiera al Torneo de Poder.
Algunos mangakas, animadores y la franquicia de Dragon Ball han mostrado su tristeza por su repentina partida:
"Tsuru san compartió mucha amabilidad y coraje", se indica en la cuenta oficial de Twitter de Dragon Ball. "Muchas gracias", concluye.
永年に渡り"ブルマ"の声優を務めて頂いた鶴ひろみさんがお亡くなりになりました。

あまりにも突然のことで、信じられず、なかなか言葉が見つかりません。

鶴さんは、たくさんの勇気と優しさを届けてくださいました。

本当にありがとうございました。

心からご冥福をお祈りいたします。スタッフ一同

pic.twitter.com/hP9NzIorAM

— 「ドラゴンボール超」公式 (@DB_super2015) 17 de noviembre de 2017
"Hiromi, siempre serás recordada. Siempre te amaremos", señala la cuenta oficial de Toei Animation.
Now words can express how sad we are about the tragic passing of Hiromi Tsuru, who gave life to Bulma for more than 30 years.

RIP Hiromi, you will always be remembered. We love you forever.

#OurBulma pic.twitter.com/GAxhxxx6GR

— Toei Animation (@ToeiAnimation) 17 de noviembre de 2017
El mangaka de One Punch Man Yusuke Murata hizo un homenaje a Tsuru san con una ilustración de Bulma. Él también ha crecido con Dragon Ball, y a mediados del 2017 incluso compartió algunos sketch con personajes de la saga.
— 村田雄介 (@NEBU_KURO) 17 de noviembre de 2017
El diseñador de personajes de Kill la Kill SushiO también hizo un arte sobre Bulma.
17 de noviembre de 2017
"Bulma y Dokin" dijo el mangaka Dragon Garow Lee, autor del spin off "Dragon Ball Side Story: The Case of Being Reincarnated as Yamcha".
— ドラゴン画廊・リー (@dragongarowLEE) 17 de noviembre de 2017
Funanimation compartió un video en Twitter, y dijo: "Descansa en paz. Te extrañaremos".
The last few days, we've celebrated the ladies of Dragon Ball. Today, it's only right that we celebrate the most iconic one of all: our Bulma.

She sure has grown up over the years. Thank you, Hiromi Tsuru, for voicing her every step of the way. Rest in peace, you will be missed.

pic.twitter.com/V56LS9aWfv

— Funimation (@FUNimation) 18 de noviembre de 2017
Actualización 25/11/2017: Luego del último capítulo de Dragon Ball Super se emitió un mensaje conmovedor a raíz del fallecimiento de Hiromi Tsuru.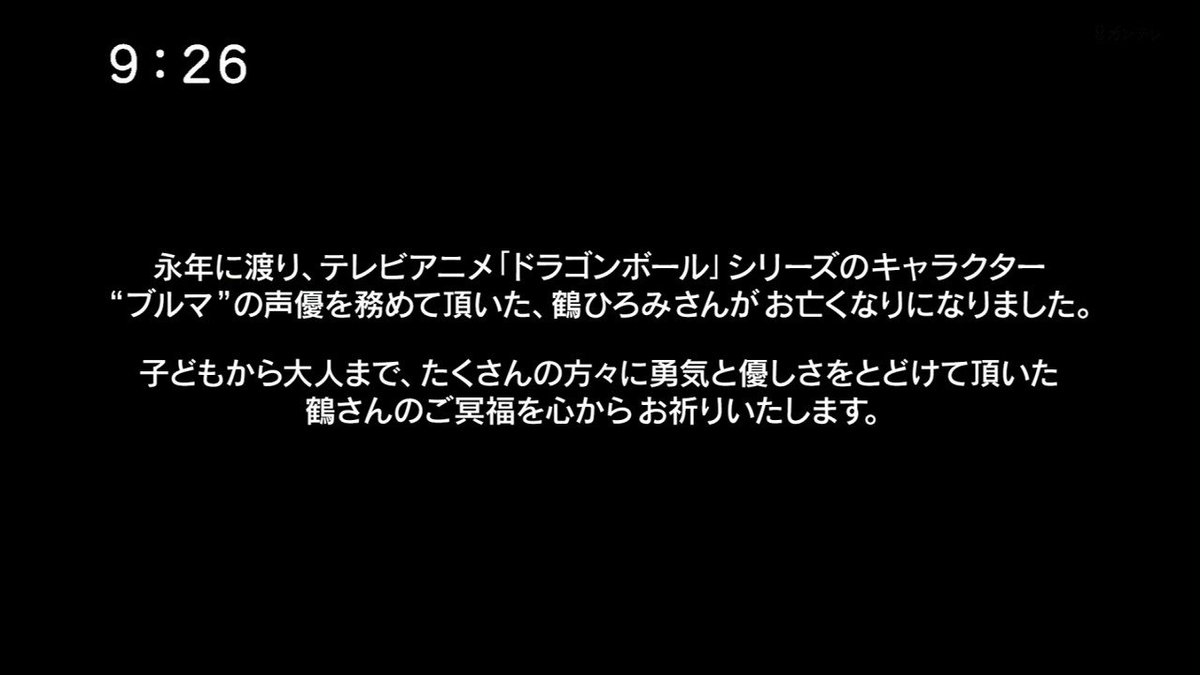 "Hiromi Tsuru, voz de Bulma por muchos años, ha fallecido. Desde niños hasta adultos, Tsuru ha dado coraje y alegría a muchas personas, y desde el fondo de nuestro corazón, rezamos para que pueda descansar en paz", es la traducción del texto.